Nutrition Response Testing®
in Rockville Centre
Optimizing Your Health, Naturally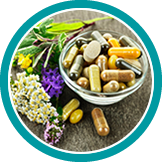 If you'd like to experience revitalized health through designed clinical nutrition, we'd like to help. Like chiropractic, Nutrition Response Testing® is a natural, noninvasive way to optimize your health. Whether you have food or chemical sensitivities, heavy metal toxicities or other conditions that may be impairing your health, Nutrition Response Testing® is a way to determine the underlying causes of illness. When we determine what these causes are, we can use nutritional means to encourage your body to repair itself.
Performing the Analysis
To determine how your nervous system is functioning, Nutrition Response Testing® tests the body's neurological reflexes as well as acupuncture points on the body. Each Nutrition Response Testing® reflex relates to a particular organ or system that shows how it is functioning. The acupuncture points are selected from the ancient Chinese system of acupuncture and are highly precise.
Creating a Personalized Nutrition Plan
Let's face it: when our diet is less than optimal, we don't feel our best. Given the amount of chemically processed foods vying for consumers' grocery dollars, it's no surprise that some individuals may not be getting the critical nutrients their body needs.
Based on the Nutrition Response Testing® results, we can determine the various nutrients that you are missing or not assimilating in your diet. We will then help create a personalized nutrition plan that highlights the types of nutrients you should be consuming for better health. It's our belief that real, whole foods found in nature are the most nutrient-dense and offer an effective way to boost your health. These concentrated whole foods, which come in capsule, tablet or powder form, are specially designed to meet your body's unique needs.
Would you like to experience better health through nutrition? Contact us today for a Nutrition Response Testing® consultation or take advantage of our website special offer!
---
Nutrition Response Testing® for Rockville Centre
Within Natural Health | (516) 868-8100